Bibliography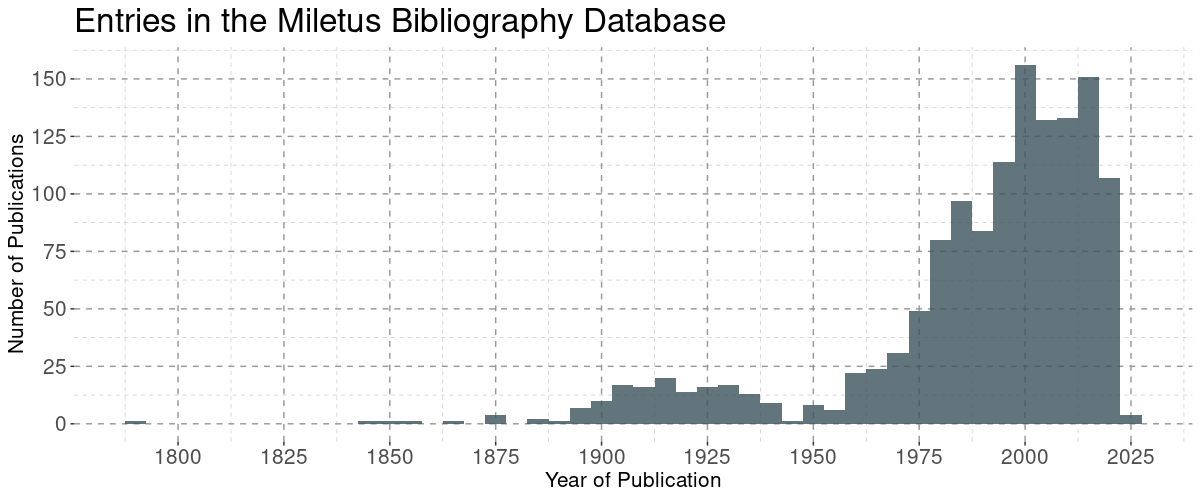 The Miletus Bibliography aims to provide a complete overview of the publications of the Miletus excavation as well as those that deal significantly with Miletus. A searchable and keyworded list can be found under the menu item "Searchable Bibliography" (Please note: loading the page may take a few seconds due to the size of the bibliography). The bibliography is also available for download in various formats that can be imported into a variety of literature management softwares (see below).
This bibliography was curated and provided as a download (PDF) by Sabine Huy in the course of her work for the Miletus Archive until 2022. With the cooperation of students, the list was transferred to a database version in 2022 and has been maintained by Lisa Steinmann since then. The bibliography is edited and managed in a publicly accessible Zotero group library. The downloads below are updated regularly, the searchable table only sporadically.
If you use Zotero as a literature management tool, we recommend joining this group and obtaining the bibliography directly via synchronisation (instructions on using groups in Zotero). Formats for importing into other literature management programmes such as Citavi can be found at the bottom of this page. In most programmes it should be possible to import the RIS format, which also contains the indexing/tagging of the list. The BibLaTeX style we use for the citation guidelines of the German Archaeological Institute is provided here by Lukas Bossert.
Download
The following exports and pdf files are generated on a regular, automated schedule.
Here you can get the bibliography as a PDF export: 
Folgende Formate bieten wir zum Download an: